Lawn Maintenance



Investing in yourself with Gelinas Lawn Maintenance
Lawn Maintenace helps your lawn and bedding areas look beautiful and stay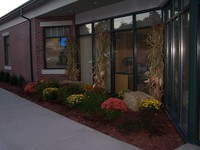 healthy. We understand a lawn isn't just grass - it's an investment. It is an investment of not only time and money, but also of dreams and memories. Of course you want your lawn and bedding areas to look perfect. The Gelinas Companies can help your property look beautiful and stay healthy, helping you achieve the perfect look you've always wanted.
The Primary Focal Points of Our Lawn Maintenance Programs:
Understanding your Goals

Putting together a Maintenance Program that fits you

Providing services that will allow your property to grow and prosper over time (phase maintenance)

Create an lasting investment for years to come

Giving you the ability to come home and enjoy it pain free!
Custom Lawn Maintenance Services
Because our lawn maintenance services are designed to fulfill the needs of your specific lawn and yard, there is no exact time frame in which lawn maintenance services must be applied. We don't base your lawn maintenance program on a one-size-fits-all standard.
Professional Lawn Cutting
Lawn Dethacthing
Lawn Aeration
Irrigation Systems
New Lawn Installation
Existing Lawn Repairs
Existing Lawn Over-Seeding
Flower Installations
Shrubbery Installations
Professional Bedding Maintenance
Shrubbery Trimming
Soil Amending
Plant Replacement/Installation
Plant protections Soils, Mulch, Compost, Peat Moss Etc.
Contact a Gelinas Representative today to set up an appointment.