Yard Clean-Up Containers
241 Daniel Shays Hwy (Rt 202)
Orange, MA 01364
(978) 544-6511
CLEAN-OUT CONTAINERS

Do you have stuff, junk, waste lying around? Gelinas Lawn Maintenance offeres container delivery to your home or business, or full service clean-outs. We currently stock 6yd, 10yd, 15yd & 30yd containers.
6yd Container as Low as $235
(No Concrete, Shingles or Sheet Rock)
Typical Uses for 15 Yard Containers
Garage Clean-Out, Bathroom or Kitchen Remodel,
Ba
sement Clean-Out, Roofing Debris, Spring Cleaning,
Carpet Removal, Heating and Air Conditioning, Window
Replacement, Re
novating a Basement, Siding from
House or Garage, Deck Removal, New Construction,
Commercial Cleanup, Re-landscaping (Inc. Tree &
Shrubs), Large Shed or Small Garage
Roll-Off Container as Low as $295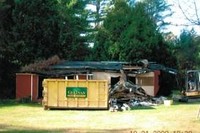 CALL FOR A QUOTE TODAY!
(866) 544-6511
or
(978) 544-6511

OFFICE HOURS
9:00AM -5:00PM M-FRI
The Phones are Open 24/7